MadLab
MadLab Services
Holiday Orders: Please note that personalized items ordered after December 13th cannot be completed and shipped before December 31st. During high volume periods (holidays and awards season April 1 - June 15) there will be a 15 business-day turnaround on all orders.
---
---
About MadLab:
MadLab started out as Custom Publishing in 1996 to provide affordable, legal, high-quality, academic materials for students compiled and designed by professors. We have expanded our services to further assist the faculty, staff, students, and community. We now offer such a wide variety of services, we had to change our name to "MadLab Technologies" to cover everything we do!
Services:
Copies (Black/White & Color)
Transparency Copy (Black/White & Color)
Laser Engraving
Printing
Binding
Send/Receive Faxes
Lamination (per linear foot)
Lamination (Hard Card)
MadLab can do all this and more!
Laser Engraving - wood, glass, acrylic, marble, stone, anodized aluminum, cardboard, leather, some fabrics, and we have hundreds of items for sale in our store!
Rotary Engraving – wood, acrylic, plastic, steel, brass, aluminum, glass
Full Color Sublimation – (put your picture on it!) drinkware, glass acrylic, fabrics, wood, aluminum
Vinyl Cutting – removable and permanent vinyl for walls, floors, wood, aluminum, acrylic, we can even make stickers!
Mounting – posters, pictures, signs on foam core
Lamination – wide format and hard card pouch
Printing – copies, color, black and white
Awards – see us for all of your award needs!
Happen to find some MadMoney? Bring it into the Wildcat Shop and get 50% off 1 engraving (one side only). MadMoney is not good for items for sale in MadLab, only personal items brought into the store.


Standard Engraving Price: $15.00
MadMoney Engraving Price: $7.50
Categories
3 Categories In List
Products
2 Products On Page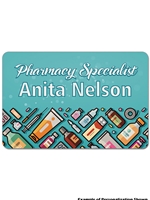 Name Badge (Customizable)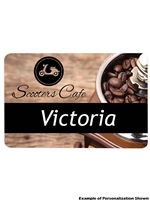 White Name Badge (Customizable)